Below is a list of issues we're aware of and are working to resolve. We'll be updating this article periodically and including workarounds where available.
Before we dig in: if you encounter any issues in the open beta, your first step should be to restart the client. This should take care of most problems. And remember, if you hit a lot of snags, feel free to use the legacy client at any time.
How do I go back to using the legacy client?
If you would like to go back to using the legacy client, you can use the orange "Launch legacy client" text at the bottom right of the login screen.
I don't see my issue on this list!
If you encounter an issue that's not listed here, please use the bug icon that's at the bottom of your friends list. These reports go directly to the team working on the updated client and help us track down and eliminate bugs much more quickly. Thanks for your help!
My client was patching and got to 99%, but then dropped below 99% =(
This is a visual error; keep it running and it'll hit 100% soon!
I don't see anything about a Beta Opt In in the Patcher.
This is likely because you have an old patcher pinned to your taskbar. To fix this, unpin your League of Legends shortcut from your taskbar and then go to C:\Riot Games\League of Legends and click on lol.launcher. This will update your patcher and you should now see the pop-up (or article) once it finishes updating. The patcher pop-up looks like the first image, the article is on the top right in the second image: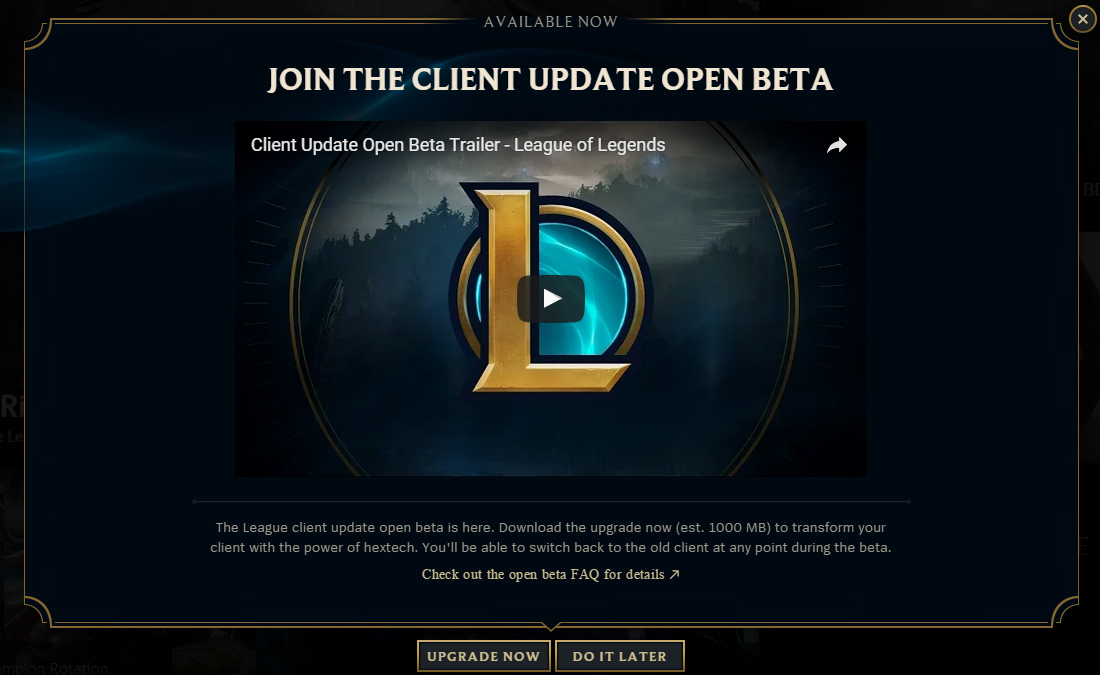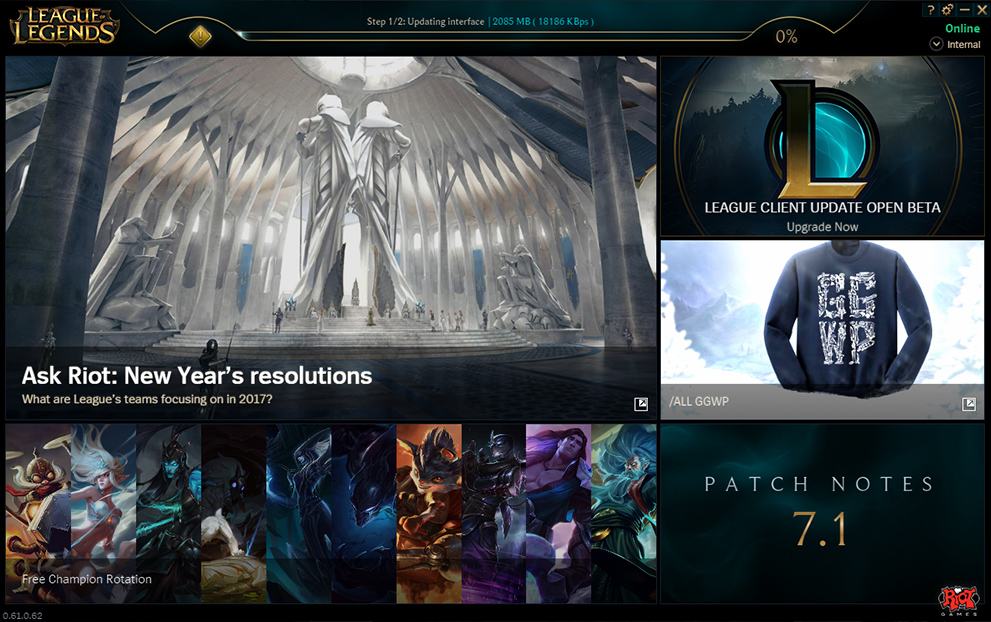 How do I submit logs for the updated client for the open beta?
When we're helping you troubleshoot some of your updated client issues or are looking to improve the future of the client, there are times where your logs will be of great help to us in learning what may be going on.
Keep in mind the updated client is still in beta, even with these logs there may not be a fix for your issues yet, but this info will help us improve the client going forward.
Mac Users: Check here for your log gathering process.
You're going to want to go to your League of Legends folder (typically found somewhere like C:\Riot Games\League of Legends\) and open the "Logs" folder. There will be several folders inside the logs folder, with files inside.
What do I do now that I know where my logs are?
Now you are going to use your favorite zip tool (such as WinZip, 7Zip, etc.) to take all those folders and files into one compact .zip file. Once the files are all zipped together, you are going to attach the zip file to a support site ticket you can submit here for a technical issue. Be sure in the body of your ticket to specify this is an Updated Client related matter.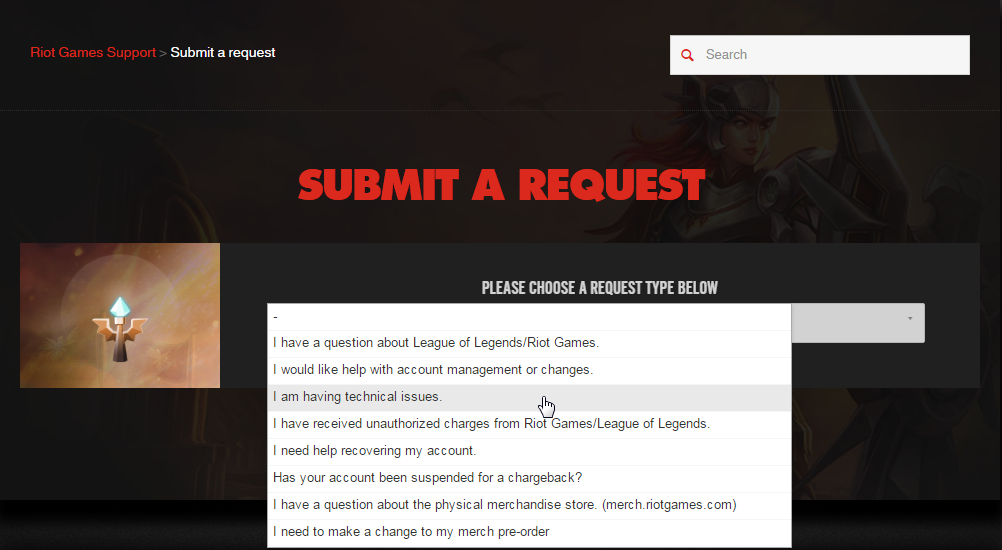 Note: You will need to be signed in to submit this ticket!
When I press PLAY on the legacy patcher, and I only get a black screen, but I can't go back to the old client because I don't see a "Launch Legacy Client" link from the updated client page after I opted in.
We've found a work around for this issue!
Go to C:\Riot Games\League of Legends-AIR ONLY\RADS\system
Open user.cfg with notepad
Change leagueClientOptIn = yes to leagueClientOptIn = no
Save and launch League of Legends again
This is a case where we want your logs! We would be thankful if you can follow the instructions above to help us track down the source of this matter.
I'm on Windows XP and I see a "RUNDLL" error pop-up when upgrading my client.
Players using Windows XP will get an error message pop up during the upgrade process. This should not prevent the upgrade from completing successfully. If you're running XP and see this error message, feel free to close it out and proceed to enjoying the updated client. Note that you will see this error message a total of three times when running the updated client on Windows XP.
Alpha players who update their alpha client are reporting that their desktop icon is disappearing
Good news! This issue is resolved now. Next time you launch League you'll be prompted to update your desktop icon. This also means using the updated desktop icon will directly launch the updated client without having to go through the old patcher. Please let us know if you're still having issues with your desktop icon.
If you are experiencing bug splats after trying to uninstall or reinstall Updated Beta Client
We are seeing players that are trying to reinstall LCU after seeing that their icon is gone thinking that will fix the problem. Unfortunately the way the League install works, you cannot uninstall or reinstall Updated Beta Client alone. If you are experiencing bugsplats, you should do a clean install starting with the legacy client and then Updated Beta Client.
I am stuck in upgrading, what do I do?
If you're experiencing issues with the Alpha client (namely a screen similar to this, found in this Reddit thread; here are some steps to work around the issue.
Delete your \RADS\solutions\league_client_sln folder if one exists in your League install
Delete all but your "installer" folder in \RADS\projects\league_client\releases directory
Run \RADS\projects\league_client\releases\installer\deploy\LeagueClient.exe
A progress window should pop up. It might take a while for it to start showing progress, but have faith!
I am seeing my upgrade button grayed out on the patcher pop up
This happens after you have already opted into the update but quit before the update is finished. At this point, you only need to wait, your client is already updating and you just need to hang in there for the update to finish before launching the League client update.
Replay button appears "expired" for the first match after you patch
This should only be happening on the first match you play on LCU after you patch to 6.22. Please try logging in again or checking the match in Match History. We're already working on a fix but please let us know if you see this happen in other cases.
My client is stuck patching at 87%
This is a visual error (you may have been stuck at 33% in the past for a similar issue), and the game is still patching. Keep it running and the patcher will hit 100% soon!
I get stuck at the champion select screen while spectating a game
If the lobby's spectator options are set to "Lobby Only," you'll be stuck on the champion select screen and won't be able to spectate the match. There is currently no workaround for this other than changing the game's spectator options. We're working on resolving this as soon as possible!
Honor is missing from my profile/champion select screen
There's currently an issue which can prevent honor badges from appearing in your profile and during champion select. Honor is still being counted, and any badges you have should still appear in the loading screen and the end-of-game screen.
Error: Failed to create dump file
This error is caused by having sound drivers installed which are not intended for a Windows 10 OS (example: Windows 8.1 Realtek drivers on a Windows 10 machine). To resolve this issue, make sure your sound card drivers are up-to-date. You can do this through the Windows Device Manager. Some sound cards have add-on software with their own drivers that may need to be updated, so it's important to also check your sound card manufacturer's website to verify you're using the latest drivers.
The updated client is not captured when I stream
The updated client is rendered differently from the legacy client on most graphics cards, so it may not show up on all streaming software depending on your settings. If your streaming software is configured using Game Capture settings, change your settings to Window Capture or Desktop Capture depending on which works best for you. Also make sure you're using the correct streaming software version for your computer (32-bit or 64-bit), as compatibility issues may prevent the client from being captured correctly.
If you prefer not to change your settings, the game will still capture correctly when it launches; this issue is contained to the updated client.
I can't select PvP or Co-op vs. AI game modes
Restarting the client should take care of this.
I can't select Intermediate difficulty for Co-op vs. AI on Twisted Treeline
We're aware that this option is currently unavailable, and we're hoping to fix it soon!
The XP/IP boost I purchased is not appearing on my account
This is just a visual bug--restart the client and you'll see it on your profile!
Modifying your config files to play in a language that is not supported by your region will create an "unspecified error" that won't go away.
If you have manually modified your configuration files in order to play in a language that is not supported by your region, you might see an "Unspecified error" that doesn't go away, when you opt-in the League Client beta and try to download League Client. To fix this, go to /RADS/system/locale.cfg and set `locale` to the locale code of one of the languages that your region supports (eg for NA `en_us`, for OCE `en_au`, for EUW and EUNE `en_gb` etc).
After I close League, the LeagueClient.exe is still running and takes a while before it terminates. If I try to open the game again I get the message "Another instance is running"
We're aware of an issue that causes LeagueClient.exe from terminating properly upon exiting the game. If you experience this, going to your task manager by CTRL+ALT+DELETE and manually closing the LeagueClient.exe process should fix this issue.
My computer is a lower-end machine, and the updated client is running really slowly!
Our top priority is performance. Currently we're seeing worse than normal performance on low-end machines running the updated client. We will continue to optimize the client to ensure players who are able to run the legacy client smoothly are able to do so in the updated client as well.