Item Sets
Item Sets let you turn a champion's Recommended Items into your own personal build. You can customize the items, champions, and maps associated with each Item Set as much or as little as you'd like. The following is an introductory guide to the feature, and we've included some frequently asked questions as well.
---
Getting Started
Click over to the Item Sets tab and add your first item set by clicking the
Create [+] icon at the top left.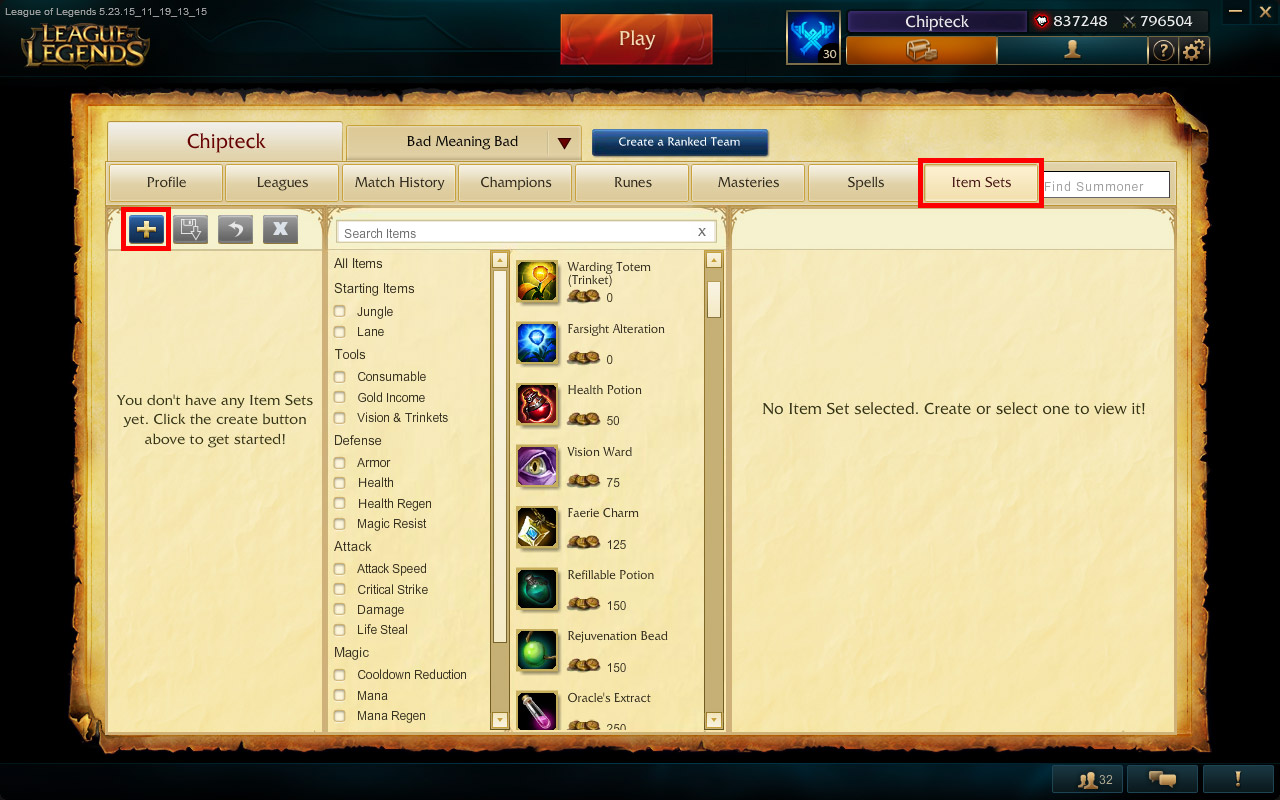 Once you've created the item set, you can choose to rename it if you would like. To begin customizing your new Item Set, you can add items from the center pane. To add items to your Item Set, drag each item you want from the center pane over to the blocks in the Items tab in the far right column. To remove an item from a block, you can right-click it or drag it away from the block.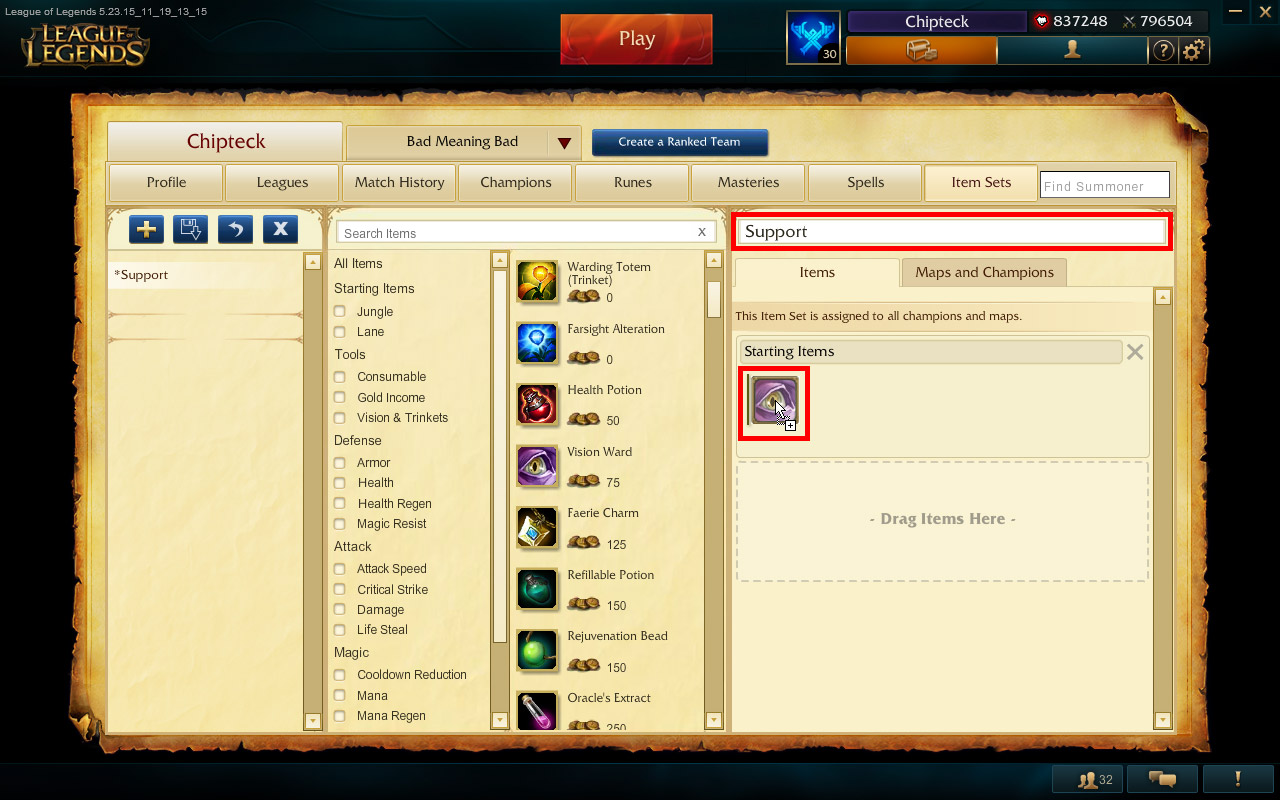 You can find specific items by either using the search feature at the top of the center pane or by selecting from the filters to narrow down to the item you're looking for.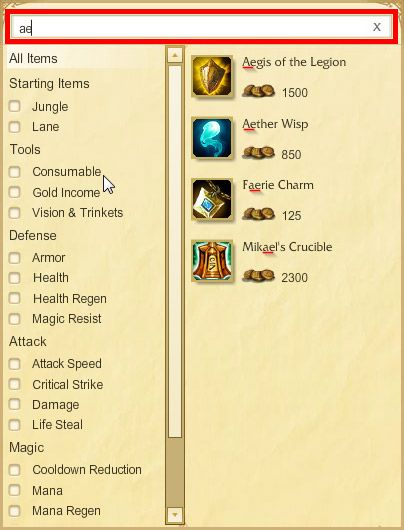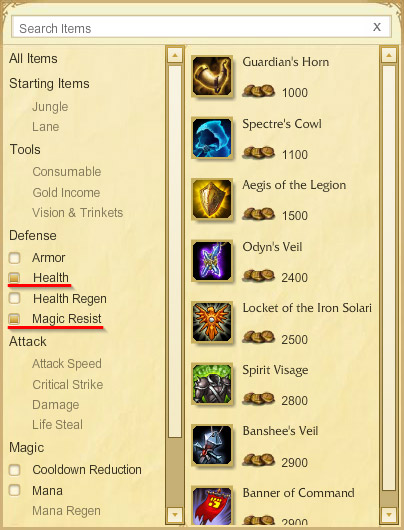 ---
Working with your Item Set
You can add as many or as few blocks as you desire, and can rename these blocks by clicking the text at the top of each. Each time you add a new block you'll be prompted to add text to it, but you can always go back later and change this anytime.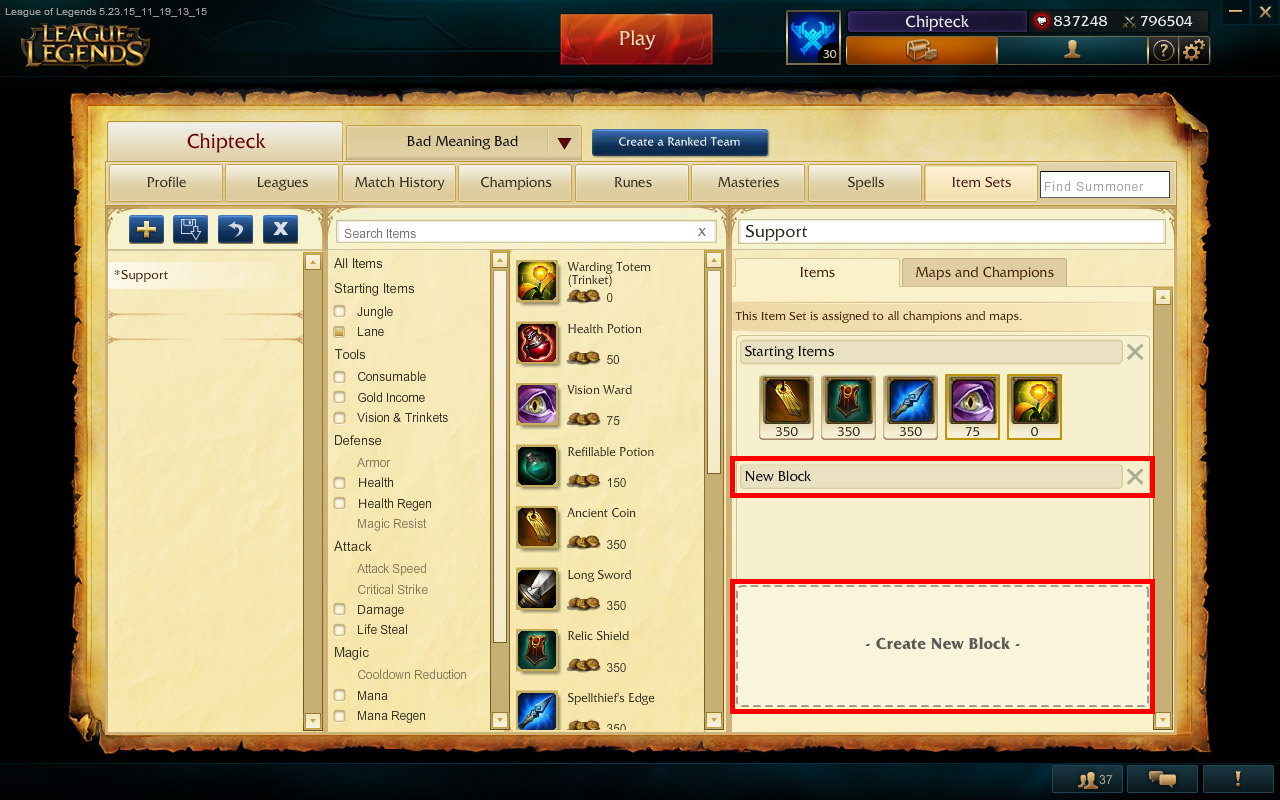 You can also stack appropriate consumable items within your set to a value of up to 5. Simply click and drag the item over where you want to stack it. If it is able to be stacked, it will be highlighted in green.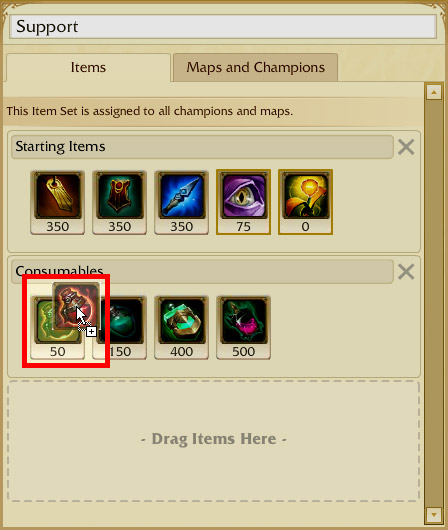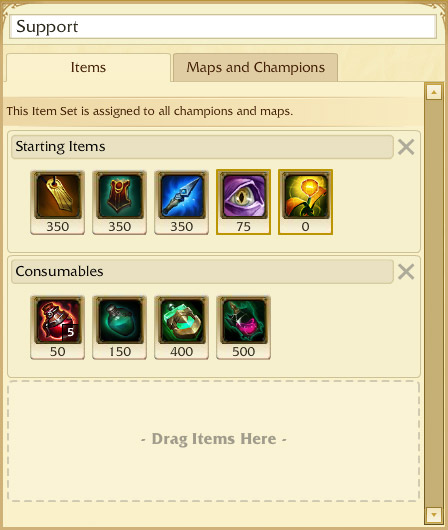 If you try to stack an item on top of a fully stacked item (5), you will be unable to do so. Instead, the item will be placed to either the right or left side of the full stack.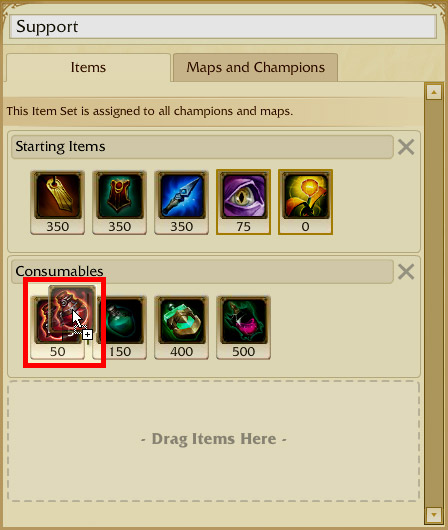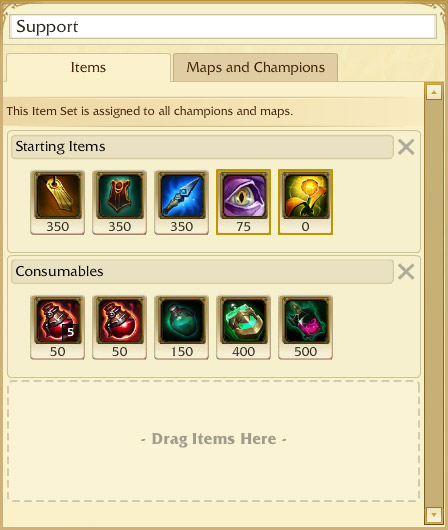 Shift + left-click and drag already placed items to duplicate them. If you shift + left-click a stacked item, it will duplicate the stack.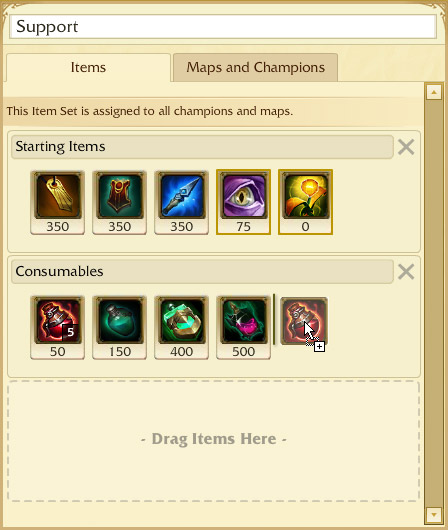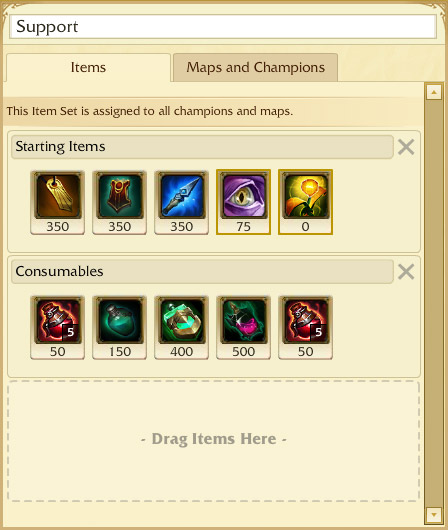 ---
Selecting Maps and Champions for your Item Set
Next, you'll probably want to decide which Maps and Champions you'd like this item set to show up for in-game. To do this, click over to the "Maps and Champions" tab in the right pane.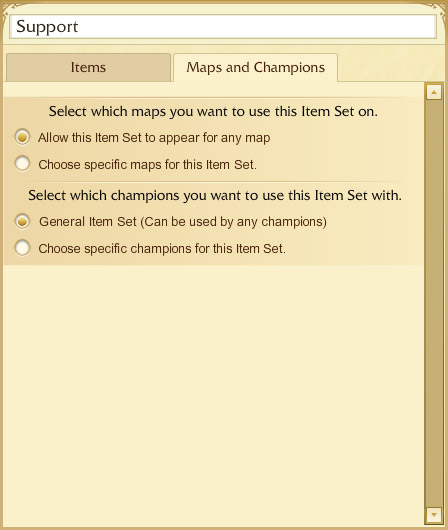 Once you're here, you can choose to leave your Item Set open to all maps and champions, or click to specify which maps and champions you'd like to assign. You can click to toggle each map and champion to add or remove them from your set.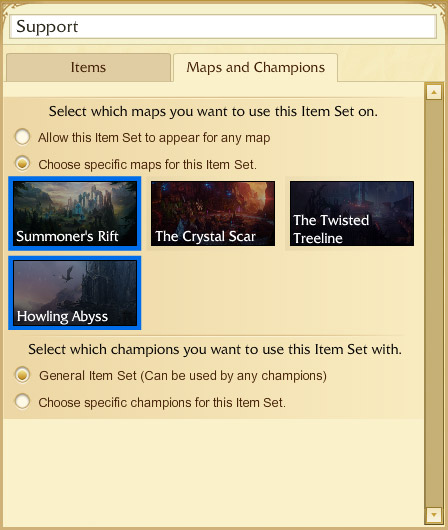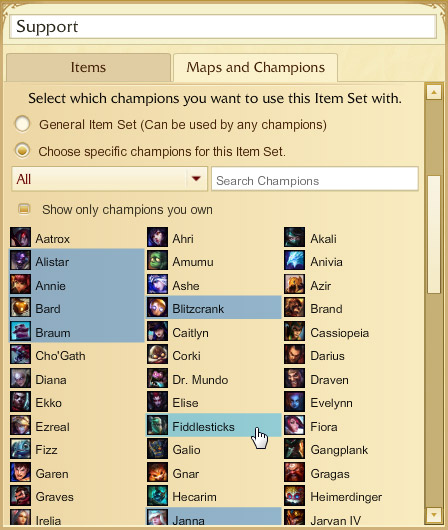 To save your Item Sets, just click the
save icon at the top left. The
revert icon will undo any changes you've made since your last save. To delete the currently selected Item Set, click on the
delete icon .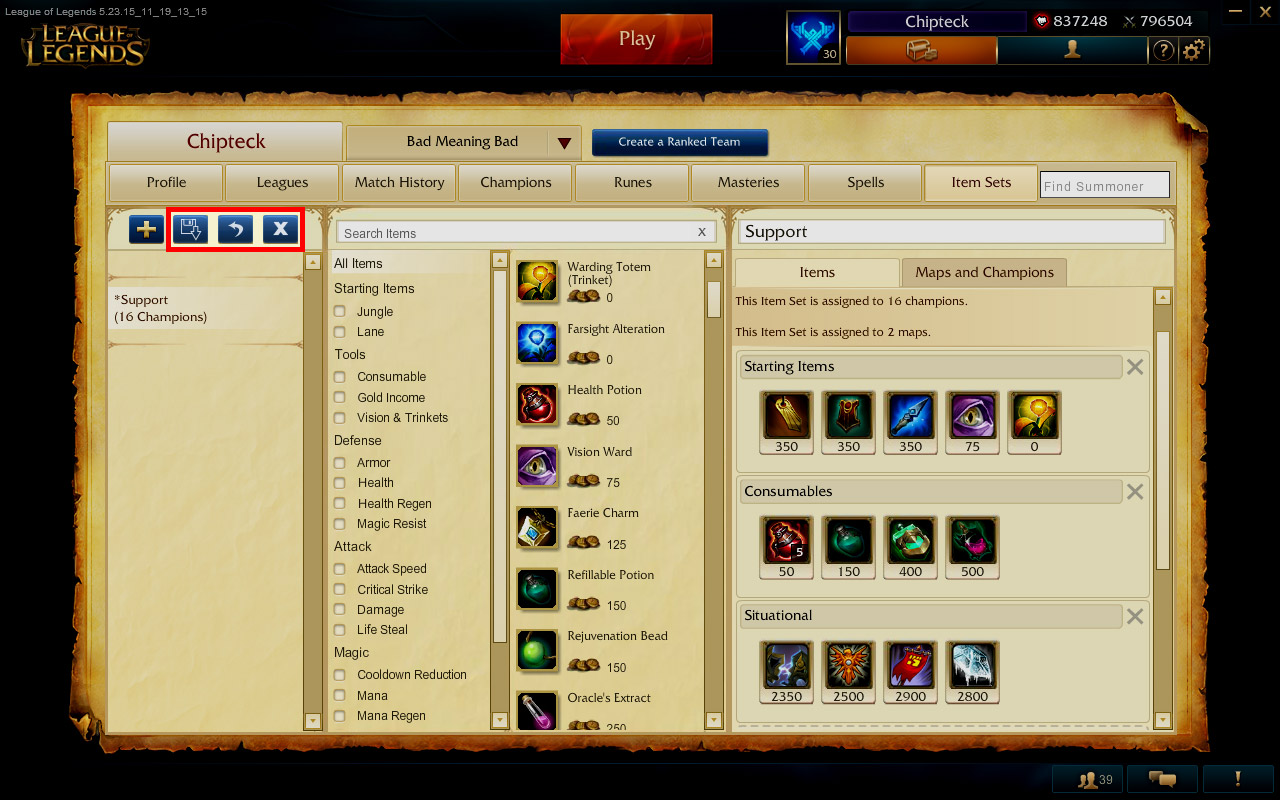 ---
Frequently Asked Questions
Does this save to my account?
Yes! Item sets are saved server-side as of Patch 5.23, so they will travel with you no matter what computer you use.
How does this work with community-made recommended item builders?
Recommended item pages created using 3rd party tools should still work. They can co-exist with the ones created using the item set feature, but you will not be able to use the Item Sets feature to edit your 3rd party sets.
Can I have more than one item set per champion?
Yes, you are able to select as many champions as you'd like to be associated with an item set. You can also opt to make your item set available for all champions if you prefer.
What does this look like in game?
The recommended tab now has a drop down. Custom item sets directly associated with the Champion you are playing will appear first in the drop down, followed by recommended items, followed by more general item sets and sets that are associated with multiple champions and maps.