Updated Client Performance Issues - Multiple Graphics Cards on Windows
What issue does this guide address?
Some computers offer multiple graphics options for programs to utilize. Integrated graphics uses your system RAM instead of dedicated graphics memory, which makes it slower but less power-intensive. Dedicated graphics uses your graphics card in all of its glory. You want to be using dedicated graphics for the updated client.
Nvidia Cards:
Open the control panel (right click the desktop -> NVIDIA Control Panel) and in the left-hand navigation bar select Manage 3D settings from the "3D Settings" category.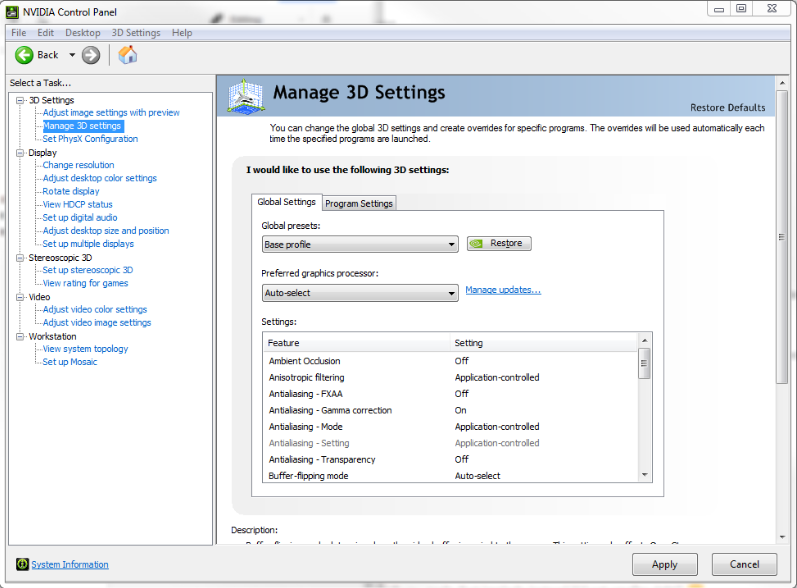 From the Global Settings tab, choose the Base profile item and then set the Preferred graphics processor to High-performance NVIDIA processor. This will improve performance for all graphics-intensive applications, including the updated League of Legends client.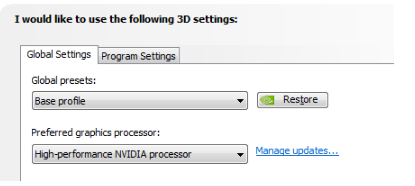 ATI/AMD Radeon Cards:
For ATI/AMD graphics cards, the process varies as there are many different versions of the Catalyst Control Center. Open the control center in the same way as above (right click your desktop -> Choose Catalyst Control Center). You may need to open graphics, then PowerPlay, and set plugged in and/or battery to maximize performance. You can also try going to graphics, then 3D, and move the slider to maximize performance. 
If you have any questions or issues, don't hesitate to submit a request.